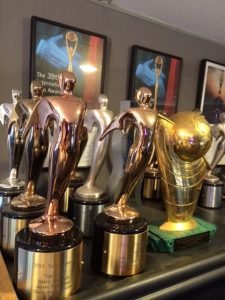 The Telly Awards has named Jessen Productions/PreFab Ads as a Bronze winner in the 35th Annual Telly Awards for their anti-text-while –driving TV commercial, "Text Crash." It was one of nearly 12,000 entries from all 50 states and numerous countries.
In "Text Crash," texting results in a serious accident for a young woman driver. This corporate-sponsored PSA ends with the line, "Please don't text and drive. We don't need the business that bad," followed by the logo of the sponsoring auto body shop.
Through the Jessen division, PreFab Ads, "Text Crash" has been licensed to, and re-branded by, over 35 collision repair shops nationwide.
"The Telly Awards has a mission to honor the very best in film and video," said Linda Day, Executive Director of the Telly Awards. PreFab Ads' accomplishment illustrates their creativity, skill, and dedication to their craft and serves as a testament to great film and video production."
This marks the 14th Telly Award Chuck Jessen has won in the past 10 years. To view the award-winning "Text Crash," click here.